Getaway From It All!
This getaway has a Lagoon Pool and three additional activity areas!
Water Volleyball

Water Basketball with Three Goals

Children Activities Crossing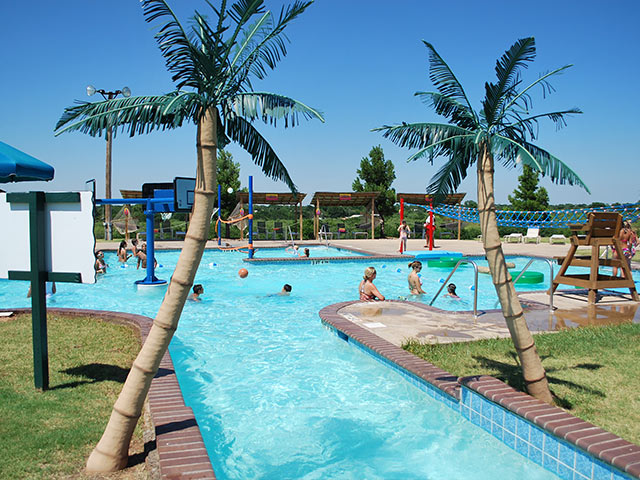 Attraction Rules
Instructions
Ride vehicle is not allowed in pool. Please enter/exit at stairs, ladder, or from Nellie′s Rolling River only. While using water volleyball/basketball please do not hang on net, put fellow guest on shoulders, or throw ball at guest. One guest at a time on crossing activity. Do not shake net while guest is crossing. Attraction may be used by guests under 36″. Please exit landing area immediately upon finishing attraction. Other guests may be coming behind you.
Warnings
Water depth varies from 3′4″ to 3′6″. Do not intentionally swallow or put pool water in mouth. Regular diapers not allowed in any attraction/pool. Swim diapers available for purchase at Retail store. Life jackets available in storage containers located at shallow end of shipwreck beach at no charge, first-come first-serve basis. Please keep furniture out of pool/water. Please do not stack, stand or kneel on tubes. Guests are prohibited from running, diving, unruly behavior, daredevil stunts & horseplay. Attraction not recommended for expectant mothers, persons with history of neck, back, joint, or heart problems, overweight persons, or persons with physically limiting conditions. Look at attraction and decide if you can safely participate. You are the best judge of your limitations. For your safety, please follow Lifeguard instructions at all times. Failure to follow rules may result in injury to yourself or others, or refusal of service.