Castaway Café
Lunch time has arrived, and Castaway Café has you covered! Cheeseburgers, chicken fingers, and cheese fries galore! Don't forget to grab an ice cold Pepsi to wash it down! Try a Funnel Stick while you're there, you won't regret it. If you're feeling really hungry, you can purchase an entire large pizza! Extra pepperoni, please.
Food Items
Cheeseburgers
Chicken Fingers
Grilled Chicken Sandwich
Corn Dog
Burrito
Grilled Cheese
Cheese Pizza (14″ or by slice)
Pepperoni Pizza (14″ or by slice)
Pretzel with Cheese
Fried Pickles
French Fries
Funnel Stick
Hot Dogs
Chili Cheese Dogs
Nachos with Cheese
Chili Cheese Nachos
Beverages
Pepsi
Mountain Dew
7-Up
Big Red
Sunkist Orange
Mug Root Beer
Dr. Pepper
Diet Dr. Pepper
Sweet and Unsweetened Tea
Lemonade
SnoBiz
Tropical Bar
The Tropical Bar is peaceful paradise where you can unwind after a long Summer day. Let our bartender make you a delicious frozen Pina Colada or Margarita to help you beat the heat, or grab a nice cold beer. The Tropical Bar offers a wide variety of beers, from domestics to crafts, as well as wine and frozen drinks. There's no better way to relax than sitting with your toes in the water drinking a strawberry daiquiri or a Budweiser.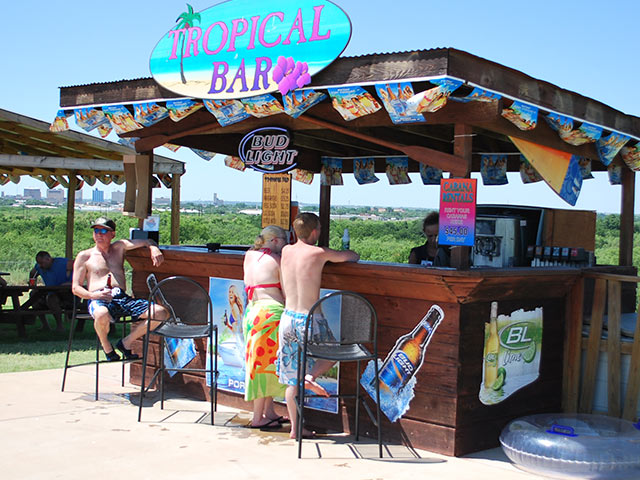 Dippin Dots
Dippin' Dots Looking for a treat to help you escape the Texas heat? Dippin' Dots, "the ice cream of the future," is conveniently located right next to Shipwreck beach. There are 8 delicious flavors to choose from. Grab a cup of Cookies and Cream or Birthday Cake. Better hurry, they melt fast!