Take the PLUNGE!
The Pirate's Plunge delivers a breath-taking experience for those who dare to ride it- and its spectators. The suspense begins as the thrill seeking rider walks up the stairs to the top of the 60 foot tower. As they walk inside the capsule, "The Plank", their heart will begin to race as the door closes and the excitement begins as the rider waits: 3…2…1. The bottom drops and the rider plummets into a 37 foot vertical free fall accelerating up to a speed of 40 mph reaching 59 feet per second as they make the 360 degree loop. Spectators, who do not dare ride the ride, will see the thrill seeker ride through the translucent waterslide and experience the heart-throb just by watching.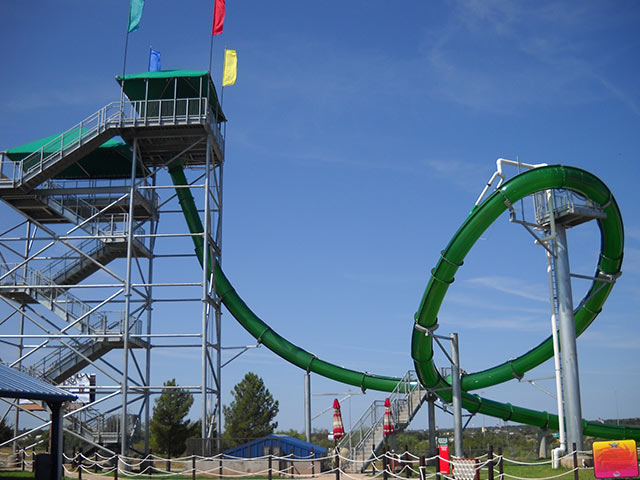 Attraction Rules
Instructions
Maximum operational load- 1 person, 300 lbs. Minimum weight is 99 lbs. Attraction may be used by guests over 48″ tall. Only 1 rider to enter the flume at a time.  Single riders only! Never form chains.  Slide must be ridden feet first, lying on your back with legs together firmly and arms folded across chest.  Riding  this slide improperly may case injury. Do not attempt to change body position or sit up until you come to a stop in the shutdown lane. Please, wait outside launch area until lifeguard instructs you to enter ride. Do not run, dive, stand, kneel, rotate or stop in the slide. If you do not make it through the loop you can exit at the low part of the loop. If in doubt, wait for instruction from the attendant. Please, exit landing area immediately upon finishing attraction, another guest may be coming behind you. Please wait outside launch area until Lifeguard instructs you to enter ride. Please do not attempt to slow down, stop, and grab part of ride or items near or on ride. If ride comes to a stop, remain lying on mat and await Lifeguard instructions. Please exit landing area immediately upon finishing attraction, other guests may be coming behind you.
Warnings
Water depth on the ride and landing area varies from 1″ to 8″. Force of water may alter bathing suits.  Do not intentionally swallow or put pool water in mouth. No cutting in line or holding places for other guests.  Violators will be required to go to end of line. Guests are prohibited from running, diving, unruly behavior, daredevil stunts, & horseplay. Attraction not recommended for expectant mothers, persons with history of neck, back, joint, or heart problems, overweight persons, or persons with physically limiting  conditions. Look at attraction and decide if you can safely participate.  You are the best judge of your limitations. For your safety, please follow Lifeguard instructions at all times.  Failure to follow rules may result in injury to yourself or others, or refusal of service. RIDE AT YOUR OWN RISK!