Shipwrecked!
Ride the tide in a tropical paradise in Castaway Cove's tidal wave pool with multiple water geysers and direct access to the lazy river.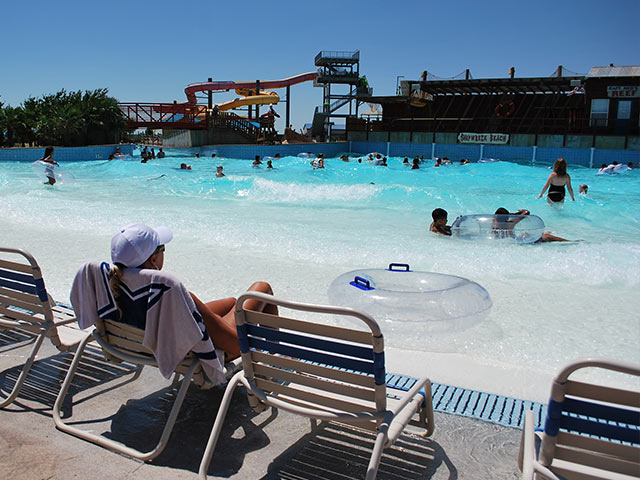 Attraction Rules
Instructions
Single tube not needed but provided at end of attraction. One rider, except in case of small child riding in parents lap. No trains or groups of tubes. Please ride seated in the tube holding handles. Please enter/exit at (stairs, ladder, ramp, launch ramp, beach, designated areas, designated exits, slide run-out) only.
Warnings
Water depth varies from 0″ to 6″. Attraction has waves. Wave action begins after buzzer sounds. Do not go past, or hang on life line at deep end of pool. Do not intentionally swallow or put pool water in mouth. Regular diapers not allowed in any attraction/pool. Swim diapers available for purchase at Retail store. Life jackets available in storage containers located at shallow end of shipwreck beach at no charge, first-come first-serve basis. Please keep furniture out of pool/water. Please do not stack, stand or kneel on tubes. Guests are prohibited from running, diving, unruly behavior, daredevil stunts & horseplay. Attraction not recommended for expectant mothers, persons with history of neck, back, joint, or heart problems, overweight persons, or persons with physically limiting conditions. Look at attraction and decide if you can safely participate. You are the best judge of your limitations. For your safety, please follow Lifeguard instructions at all times. Failure to follow rules may result in injury to yourself or others, or refusal of service.