Be a part of the team that will make Castaway Cove Waterpark a big success in Wichita Falls and bring smiles to thousands of guests.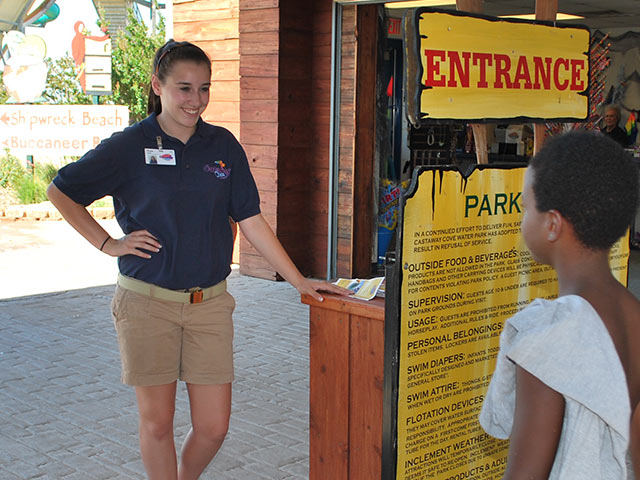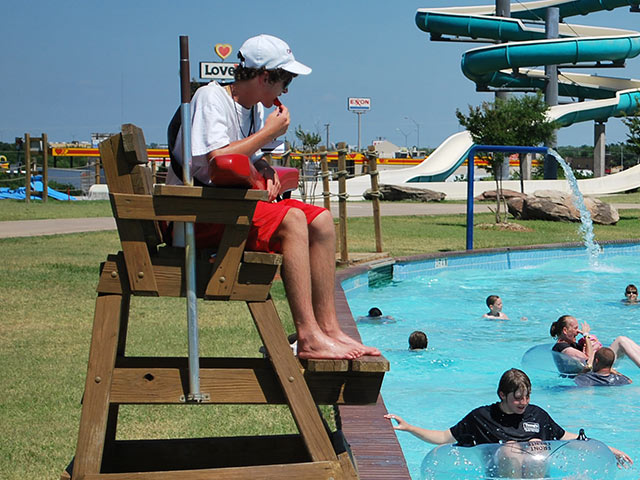 So, why should I work at Castaway Cove this summer?
You'll Have a Great Time!
Believe it or not, there are still some jobs out there that a person can enjoy being a part of. Unfortunately, this isn't one of them…just kidding! We have no doubt that you will have fun working at Castaway Cove Waterpark and that attitude will pass on to your interaction with park guests. To make it even better, when you don't have a shift you will have the chance to get into Castaway Cove for free and your immediate family will get a discounted rate when they visit (sorry, no Saturdays or holidays).
You'll Make Cold Hard Cash!
Just admit it…money is a big consideration in finding a job. With that in mind we have structured our pay rates to be competitive with other local jobs.
Work Schedules That Aren't a Bummer!
Sure…we have to make sure there are enough employees covering the shifts to keep the park staffed and our guests happy. However, we will do our best to take your life outside of work into consideration in the scheduling process.
The Opportunities To Meet New People Are Endless!
Within your own ranks or other departments you will have plenty of chances to meet new people and create life-long friendships. During daily shifts, intramural events, or get-togethers we will have a great time the entire summer getting to know other team members from a staff of about 200 people.
We Trust You'll Be Back!
By the end of the season you will have too many friends and memories to count. You'll have such a great experience that we have no doubt you will be thinking of the next one to come.
Castaway Cove Waterpark will be accepting applications for the following positions:
All Waterpark Positions
Our job is to help the park guests have a safe, fun, and memorable experience at Castaway Cove Waterpark. Smiles, a fun-loving attitude, and a service oriented mind-set will help to accomplish our task. In addition to the department and job specific tasks mentioned below, every employee will be responsible for the overall park image. In other words, be prepared to do anything to help the Waterpark look good and operate efficiently. This could cover tasks such as picking up a piece of loose trash to helping out in other departments. We truly believe that all employees are part of a big team and with that attitude we will help the guests to have a great experience.
Greeters/Retail
We're definitely looking for friendly, up-beat, service oriented people to help with this position. Greeters and Retail personnel are some of the first members of our team to make an initial impression on our park guests.
Cashier
Plenty of guest-friendly staff are needed to help guests as they purchase admission into the park, food, beverages, snacks, retail items, and rent lockers. Obviously this position requires some pretty trust-worthy folks and they must follow specific company guidelines. In order to perform in accordance with company standards, all team members who handle cash must complete a cashier training that will be offered by Castaway Cove. Previous cash handling experience is helpful but not a requirement.
Food Service
Everybody has to eat right? We're going to need energetic and helpful cooks, prep cooks, and servers to meet the food service expectations of our guests. Our food and beverage items must be tasty and prepared efficiently. We must meet Wichita Falls Health Department requirements for our food service staff and the items we prepare; therefore, you will be required to complete a Food Handler's class and pass a test as part of the Health Department certification. The class and Certification must be done online and certificate given to Castaway Cove Waterpark.
Lifeguard
Another piece of the Castaway Cove team are the staff members who look out for our guests safety as they enjoy our rides and attractions. This position requires a great deal of maturity since you will serve a vital role in our guests overall experience. The lifeguard job is a position in which interaction with the guests is very important. Lifeguards spend their shifts in and out of water, in the sun and shade, while maintaining strict safety standards. The minimum age to attend the National Pool and Waterpark Lifeguard Training Course that is offered at a cost through Castaway Cove Waterpark is 16 years of age. If you have further questions about the lifeguard course contact the Human Resources department.
Pool Crew
This position has limited interaction with guests but is a large part of the guests impression of the park. Pool staff are responsible for maintaining a high standard of water quality in all of the pools and attractions through the use of chemicals, portable pool vacuums and general clean up around the pools and attractions. This position requires individuals who are able to wake up early and report to their shift at the crack of dawn. Previous water quality experience is helpful but not a requirement.
Other Positions
There are other positions available such as: Maintenance and Grounds.
This is what you'll need to be a successful employee at Castaway Cove Waterpark:
Great Attitude!
The only way the guests will have a great time is for the staff to directly influence their overall experience. We need enthusiastic employees committed to helping our guests enjoy their visit in a safe and fun atmosphere.
Strong Work Ethic!
Being an employee at a Waterpark that delivers fun and great service to its guests is a hard job but full of rewards. We want employees who are not afraid to put in a hard days work individually and as a team in the goals of guest safety, guest service, and park cleanliness.
Availability!
Despite being a seasonal business our operating season is nothing to take lightly. It takes numerous team members from all departments to operate the Waterpark on a daily basis. We will be open weekends in May, late August, and September. Daily operations will begin late May through early August. To achieve our operating schedule and have a successful summer we need employees to work a variety of shifts including weekends.
Here's some of what you need to know:
Castaway Cove is an Equal Opportunity Employer. All qualified applicants will be considered for employment without regard to race, color, religion, sex, age, national origin, marital status, physical handicap or veteran status.
All jobs require applicants to be at least 16 years of age.
And, here's what Uncle Sam needs from you if hired as part of our team:
Proof of Identity and Age
One of the following photo ID documents will prove your identity: driver's license/permit; school ID, military ID, state issued ID, U. S. passport, resident alien card, certificate of naturalization, or other valid and approved document.
Proof of Eligibility to Work in the U.S.
Because of immigration laws, all employees must produce one of the following documents to prove they can legally work in this country: Social Security Card, U.S. birth certificate, U.S. passport, resident alien card, and certificate of naturalization or other valid work authorization.